On this date in History .... March 28, 1997:
The California Raisins' first commercial, "Lunchbox", (click here to see the "Lunchbox" commercial) was listed at #15 in Entertainment Weekly's "The 50 Best Commercials of All Time". The Raisins were described as "The coolest wrinkled musicians this side of the Stones."
The idea came up while trying to create a commercial for the California Raisin Board. One of the frustrated writers said, "We've tried everything but a raisin singing 'I've Heard It Through the Grapevine!' "(a song by Marvin Gaye).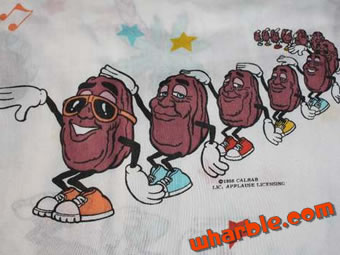 The commercial became a hit that gave birth to more commercials, two TV specials, a Saturday cartoon and four LP releases, including a Christmas album. A 1988 primetime special "Meet the Raisins" got them an Emmy Nomination. Future commercials with the Raisins featured such superstars as Ray Charles and Michael Jackson.
CLICK HERE TO SEE THE MICHAEL JACKSON RAISINS COMMERCIAL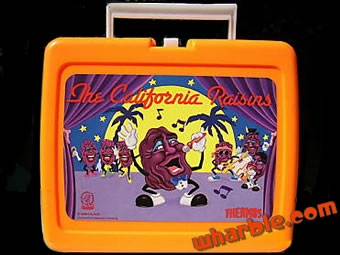 Toy figurines of the Raisins became popular 80s collectibles including being give-aways by Hardee's as part of their cinnamon-raisin biscuit promotion. In their peak year (1988), these claymation figures made more money than all actual raisin farmers combined from sales of toys, posters, lunchboxes, clothes and much more.