On this date in History ..... March 12, 1969: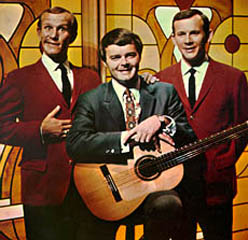 Mason Williams with "The Smothers Brothers"
Mason Williams' instrumental "Classical Gas" receives three Grammy

Awards:

Best Instrumental Composition,

Best Contemporary-Pop Performance, Instrumental, and

Best Instrumental Arrangement. Williams was the head writer of the TV variety show "The Smothers Brothers" at the time he wrote the piece and performed it on the show.
When the song reached the Top Ten, Williams asked a filmmaker to create a video of classic art in time to the music entitled "3000 Years of Art".
Click HERE to see the music video of "Classical Gas".